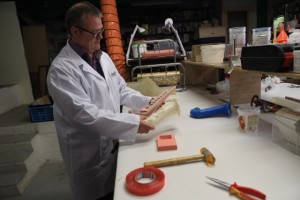 After a career as a lecturer in industrial design, Carl Grimmelprez from Ypres in Belgium founded a laboratory where he makes special prototypes, including a plastic saxophone. His Roland milling machine plays an important role in the production process.
Wearing his white dust coat, Carl is the focal point of a very special laboratory where prototypes are cast in a wide variety of plastics and resins. It is Carl's extensive knowledge of materials that makes him so valuable to companies that want to manufacture prototypes of their future products. Often the designs are a secret, and it is the craftsmanship of Carl and his company, Hands-on, that makes the prototypes so closely resemble reality.
Accurate moulds
Hands-on uses moulds in which Carl casts the synthetic resin. The Roland DG MDX-40A milling machine accurately mills these moulds. Carl: "I work according to the principle, 'design by prototyping'. This is a much faster method of design than sitting in front of a computer. This seems contradictory. You'd think that it would be much quicker on the computer. However, when working on a computer, you make lots of assumptions without checking them in reality. This means designers can continue down the wrong path for a long time and fail to deliver the correct result. You can take a lighting fixture as an example. If there are new designs, test them first before finalising the design of the whole fixture".
Knowledge of materials
Carl Grimmelprez taught prototyping for 18 years. He noticed that many higher-education students enrolled into theoretical areas instead of attending a technical school. These students had absolutely no experience with materials. "I see exactly the same with my customers. They also lack this experience and knowledge. This means they do not make enough prototypes. I fill in the gaps." The process applied by Hands-on is called vacuum casting. Carl casts plastics in silicone moulds. For large runs in industrial processes, the manufacturer makes a steel mould. If there is a mistake in the design, it costs a lot of money to the change the steel mould. The error must be found early in the design process.
Unique
"What we do is unique. Very often companies use 3D-printers to create prototypes. Vacuum casting is not done in Belgium, but often in the Netherlands and Germany." Carl makes a mould with liquid silicone from the 3D-printed design. It contains a recessed area in the shape of the product. He casts resins of different compositions into the recessed area. The final product will resemble the product to be produced in the production run as much as possible.
Smooth milling
Hands-on not only make silicone moulds from the 3D-print, but also from products made by the Roland MDX-40A milling machine. "Milling is more interesting because the surfaces are smooth immediately. 3D-printing always requires a lot of post processing." Many of the projects come from the lighting industry and the medical profession. Thus, Carl Grimmelprez shows us that anything is possible. He recently made prototypes of components of a lighting fixture as well as a set of complicated surgical scissors. But he also makes special musical instruments.
Plastic saxophone
Carl is a musician. He plays saxophone in a jazz band. One of his special projects is to design and build the sax of the 21st century. "The technique used in the saxophone is still the same as in the design from 200 years ago," he states. "As a good Belgian, I think we should be able to improve this Belgian invention". And so the plastic saxophone, made from composite material, was born.
The musical inventor proudly displays his first designs. His intention is to eventually build many of these saxophones in a small production run. "It's really not necessary for a saxophone to be made from copper. There are materials with which the same sound can be produced. I intend to make this dream come true!" Again, the milling machine is used for the mother moulds and the saxophone components are cast.
Previously, Grimmelprez made a chromatic harmonica from plastic. And the designer is more than happy to demonstrate the excellent sound characteristics of this instrument. "At the same time, it's an excellent way to show what we can do. It comes down to minimal differences and tolerances. It is important to experience how these differences can affect the sound and playability of the instrument."
This story has been made for Roland DG and was published on the Creative Communication News Netwerk – Blokboek.com